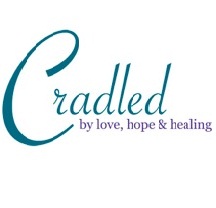 Cradled is a group providing support and resources for women and families experiencing miscarriage, stillbirth, and early infant loss.
Maybe you've begun to miscarry, or maybe a Doppler or ultrasound has confirmed no heartbeat.  Maybe you were told your baby will not survive, or you experienced tragedy at birth.  We are so sorry.  We hurt for you, and we want you to know there is love, hope and healing for you.
Someone is here to walk with you so you don't have to navigate this journey alone.
Whether you are in a moment of crisis or years down the road, Cradled offers individual support as well as weekly peer support groups.
We are here for you.
This group will be meeting for 6 weeks at the Babb Center from 6:15-7:45pm  beginning Wednesday January 17th.  Childcare is available. To get more information about this group, and the Cradled nonprofit, contact Rachelle@cradled.org  or visit www.cradled.org